When Diane Baker looks out over her Lafayette yard, she sees not just an abundance of native plants but a vast, and varied, array of wildlife. From different kinds of butterflies and birds to caterpillars and little bugs, it's more than just a yard. It's an ecosystem.
Baker is one of more than 170 Louisiana residents whose properties have been classified as a Louisiana Certified Habitat. Underwritten by the Louisiana Native Plant Society and carried out by several independent partner organizations — the Native Plant Initiative of Greater New Orleans, the Acadiana Native Plant Program and the LSU Hilltop Arboretum — the program encourages property owners and managers to increase and protect the ecological value of their land by introducing native plant species in their backyard.
The idea was first floated by Phyllis Griffard, president of the Acadiana Native Plant Project and coordinator of the Louisiana Certified Habitat program.
"I had the idea pop into my head a few years ago," she said. "Other certifications for environmental programs existed in nonprofits, but they were national and not regional. So we scavenged some ideas from other societies about not just focusing on native plants, but other characteristics of responsible landscaping to preserve ecological function."
With Louisiana's unique ecosystem, habitat loss from development and agriculture has made conservation more important than ever. The program aims to recognize the efforts of landowners working to turn land back to the way it's supposed to be.
And therein lies the key: it's not just about the plants. Instead, plant life acts as a sort of catalyst for the return of a wider ecosystem since wildlife thrives where the proper species of plants do.
"The idea is that without the right plants, you can't have a fully functioning ecosystem," Griffard says. "Without them, you won't have the insects that feed the birds, and so on."
There are different levels of certification: bronze for 25 plant species, silver for 50 and gold for 75 species. Though the number of plants might sound daunting, it's not. Most people would be surprised by the number of native plants already bedded down in their yard.
"We've almost always seen that when people look at the checklist, they realize how much they have already," she says. "They'll say 'Oh, I didn't know the purple coneflower was native. Check.'"
For those starting out, Griffard recommends starting with popular and easy plants like the purple coneflower or black-eyed Susan. And because the plants are native, not only do they look great, but they flourish on their own accord, meaning little need for pesticides and herbicides.
For Diane Baker, the path to having a certified yard came naturally.
"One thing is that we really didn't work towards achieving native plant status," Baker said. "It just sort of happened."
Baker and her husband, ecologist Richard Day, were already very conscious of good gardening practices and liked the spring plants that would naturally come up in their yard: oxalis, fleabane, violets, even thistles.
"We planted flowers that we thought were pretty, but just happened to be native plants," she says.
Natives are not just pretty, but they're easier to handle, too.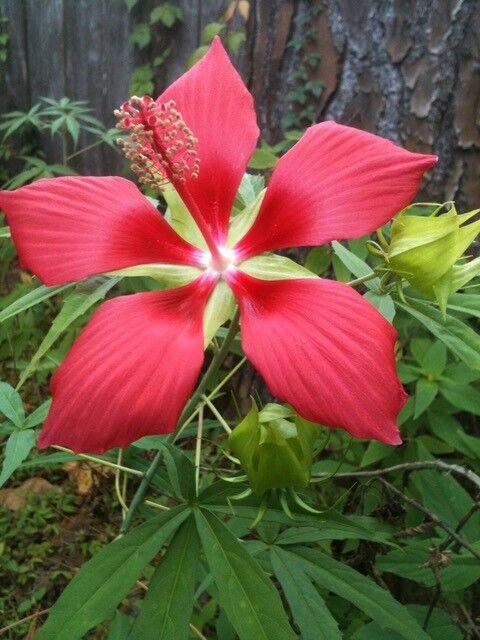 "I had a hibiscus that would make these beautiful red flowers, but it was kind of touchy," Baker said. "Then I got a native hibiscus, and the flowers are just the same but it's easy. It loves it here. And that's another reason I liked to get certified: having nice flowers can be easy."
Above all, it's about making the most of what you have.
"Definitely keep the lawn you use," Griffard says. "But if all you're doing with your lawn is looking at it and mowing it, then you could probably be doing more for nature."
Since so little of America is functional as an ecosystem, Griffard said "whatever little corners individuals can take care of and steward on their own makes for a great way to improve ecological function on land."
More information about the program, and details on how to become involved, can be found at lnps.org.
Louisiana Inspired is a weekly Sunday feature that focuses on people and organizations in Louisiana who are working toward solving problems and making the world a better place. The section is published in Baton Rouge, New Orleans and Acadiana. If you know of someone or an organization that is doing exceptional work to make Louisiana better, please let us know by emailing us at lainspired@theadvocate.com.